The Habitation Clément is a vast agricultural area of 160 hectares, nestled in the town of Le François, in the South-East of Martinique. Dominated by a Creole house dating back to the 18th century, this site, listed as a historical monument in 1996, is home to a major heritage site, a well-known contemporary art centre and a renowned rum house in the heart of sugar cane plantations. Each year, 100,000 visitors come to discover the specificities of this outstanding place that has maintained its agricultural and industrial function, while also discovering the botanical world, the world of rum, the Creole world and the industrial world. Educational tools have been put in place to accompany school children in their discovery. Recognised as "House of the Illustrious people" in 2011, the Habitation is now seeking to preserve its authenticity and pursue its efforts to enhance its heritage value.
Exploring the Habitation
Practical information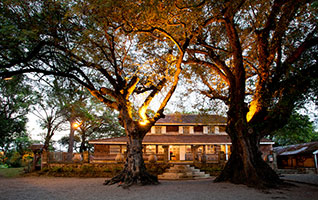 The Habitation Clément and related exhibitions are open from 9 AM to 6:30 PM (last entry at 5:30 for the Clément Habitation), 365 days a year.
Audioguides