EXHIBITIONS

CURRENT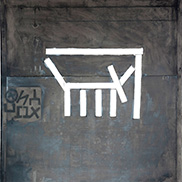 code underground | Wolfric
16 October 2020 - 6 January 2021
Comme un processus de réélaboration ou de reconstruction d'idées, le travail de Wolfric passe par la remise en question des valeurs intrinsèques et extrinsèques de sa pratique.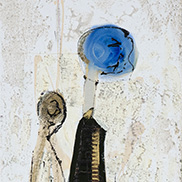 D'escales en escapades | Mounia
16 October 2020 - 6 January 2021
Mounia développe son sens des matières, son goût des harmonies insolentes qu'elle met aujourd'hui au service de la peinture en les associant aux couleurs de sa terre natale, la Martinique.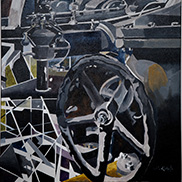 Figurabstraction | Fred Eucharis
16 October 2020 - 6 January 2021
Expérimenter la figuration et l'abstraction, la richesse des couleurs et des formes, observer l'expression de tout ce qui m'entoure, en découvrir les mécanismes secrets, c'est ma recherche depuis l'âge de quinze ans.
EXHIBITIONS

PREVIOUS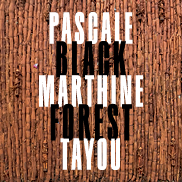 Pascale Marthine Tayou | Black Forest
15 December 2019 - 27 September 2020
Je vous invite à courir avec moi les yeux bandés, pieds et torse nus sur une corde raide. Réduire les espaces entre nous est une urgence contre nos terrorismes intérieurs. C'est à ce prix que nous sortirons des lianes épineuses au coeur du « Black Forest ».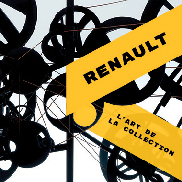 Renault, the art in the collection
9 December 2018 - 6 April 2019
Reading these two words, "art" and "collection," one immediately thinks of asset of handsome historic cars. Such a collection does indeed exist. However, what is less well known is the very strong link between Renault and the art of its day.